In this article, I will be going over the best conical fermenters for homebrewing, both stainless steel and plastic ones, as well as what a conical fermenter actually is and how it works, I will also go over their feature set, if they allow for fermenting under pressure, and more.
So, without any further ado, let's get started!
What is a conical Fermenter?
A conical fermenter has a cone-shaped bottom that allows for proper yeast flocculation and for all the sediment to gather on the bottom which lets you purge it by opening a valve, leaving you with just beer and no sediment to transfer into additional containers.
The main advantage of conical fermenters is that they let you purge the yeast, and this means that you can use them as both primary and secondary fermenters without having to transfer the beer to a secondary vessel.
If you want to learn more about all of the advantages that conical fermenters have to offer, then either scroll down to the bottom of the post or click on this link (it will automatically scroll you down).
Without any further ado, let's get straight into the list of the best Conical Fermenters, starting with Stainless Steel:
Best Stainless Steel Conical Fermenters
I won't be listing dozens of fermenters since I know that doing so will only make you wonder which one to get. This is why, in order to avoid confusion, I will list four of them depending on their price tag (Affordable, Semi-Affordable, and more High-end) and then move on to the plastic ones.
Let's get started!
The FermTank (≈$220)
Most affordable 8-Gallon Stainless Steel Conical Fermenter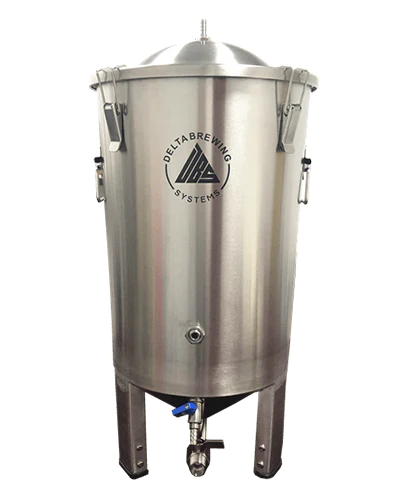 Capacity:
8 Gal. or 36 Liters.
14 Gal. or 63 Liter.
Pressurizable/Isobaric: Up to 4 PSI for transferring beer (Can't ferment under pressure).
Made out of 304 food-grade stainless steel, the FermTank Conical fermenter is a great starting point for any homebrewer since it's really affordable.
It comes in two sizes: 8 and 14 gallons (36 or 63 liters), but for most people brewing beer at home, the smaller one should suffice.
The FermTank features a welded drain valve at the bottom and since it's intended to allow for easy cleaning and rinsing, it is also possible to dump yeast.
Another standout feature is that it comes with a thermowell in the lid for proper temperature control, and it also comes with a blow-off hose barb to allow the Krausen to escape the fermenter during active fermentation.
The domed lid also has an extra 9/16″ hole drilled with a plug and an o-ring which can take a ball-lock gas post and is intended for an easy way to attach a pressure relief valve if needed.
Distinctive Features:
Very affordable for being a Stainless Steel Conical Fermenter.
Includes thermowell and removable thermometer.
Pressurizable to 4 PSI for pressure transferring.
Racking port with rotatable racking arm.
You can get the FermTank here: Delta brewing systems, FermTank (Europe).
GF30 Conical Fermenter (≈$700)
With heating and option for Cooling!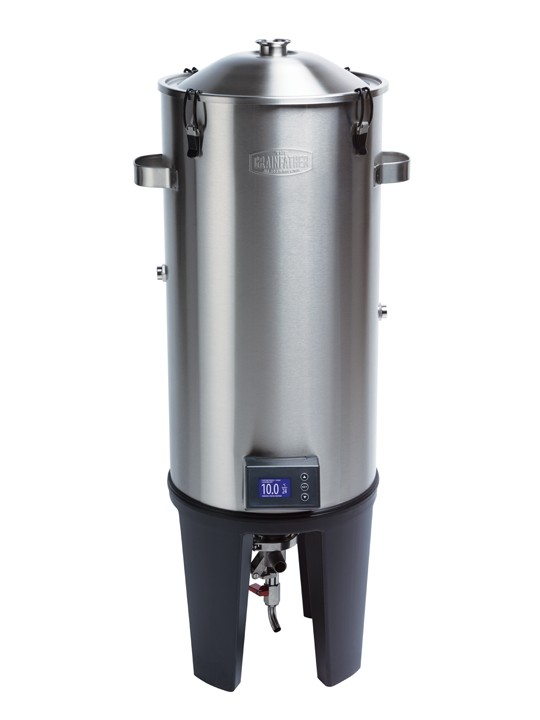 Capacity: 7 Gal. or 31 L.
Pressurizable/Isobaric: 2 PSI (Only for transfers but can't ferment under pressure).
The GF30 Conical Fermenter by Grainfather has a capacity of 7 Gallons or 26 liters and it features a 30 Watt heating element located in the cavity between the cone and the outer body that can be controlled by a digital temperature controller and that is designed to heat the environment between the walls of the fermenter instead of the liquid directly, resulting in the wort getting heated in a uniform manner, which is much better for the yeast than using localized heating.
In addition to the heating element, the GF30 features a liquid cooling sleeve between the walls of the fermenter that can be hooked up to a glycol chiller.
When setting a specific temperature using the temperature controller, it will either activate the heating or cooling element, allowing you to finely dial-in the temperature your specific style of beer requires.
This means that you can brew ales in the winter as well as lagers in the summer without any issues.
As the name implies, it's a conical fermenter designed at a 60º angle which allows for proper yeast flocculation without it getting stuck on the sides of the fermenter, and this lets you transfer the beer to another fermenter, or even bottle directly, from above the sediment line and without transferring any of that sediment to the other container, and this is all done through a dual tape valve which also allows you to dump yeast and take beer samples.
In addition to all of this, the GF30 can be controlled over WiFi using the Grainfather App on any mobile device, which lets you control the fermentation temperature from anywhere plus it also offers in-depth tracking.
Distinctive Features:
Built-in heating.
Wi-Fi Controllable.
You can get the Grainfather GF30 here: Williamsbrewing, Grainfather.
Brewbuilt X1 Uni Pro (≈$1500 – $1900)
One of The most advanced homebrewing fermenters!
Capacity (Comes in three sizes):
7 Gallon or 31 Liters.
14 Gallon or 63 Liters.
27 Gallon or 122 Liters.
Pressurizable/Isobaric: Up to 15 PSI (Fermenting under pressure only with additional kits for safety reasons).
The BrewBuilt X1 fermenter is one of the most advanced fermenters on this list, which is also why the cheapest one comes in at roughly $1500. You can get it in three sizes: 7 Gallon, 14 Gallon, and 27 Gallon.
This is a self-contained conical fermenter, meaning that it doesn't require any external source, such as a refrigerator, glycol chiller, etc. to cool the wort since it uses Peltier technology to do so.
The "Peltier Effect" occurs when an electric current runs through a circuit of dissimilar conducting metals. This thermoelectric reaction that happens when the current passes from one metal to the other can produce either cold or heat depending on the direction the current is flowing.
For heating, the X1 Uni Pro relies on a low-watt density pad inside the neoprene jacket that gently raises the temperature of the wort from the bottom up, and if you combine these two technologies, you get a very efficient and precise temperature control.
It also features a pasteurizable flex chamber that can be used to harvest yeast, removing the trub, etc., and that attaches directly to the butterfly dump valve.
Distinctive Features:
Peltier Technology for active cooling.
Built-in heating.
Can ferment under pressure.
You can get the BrewBuilt X1 Uni Pro here: More Beer.
Brewtools Unitank Series (≈$1850 – $2500)
High-end Homebrewing and small-scale Fermenters!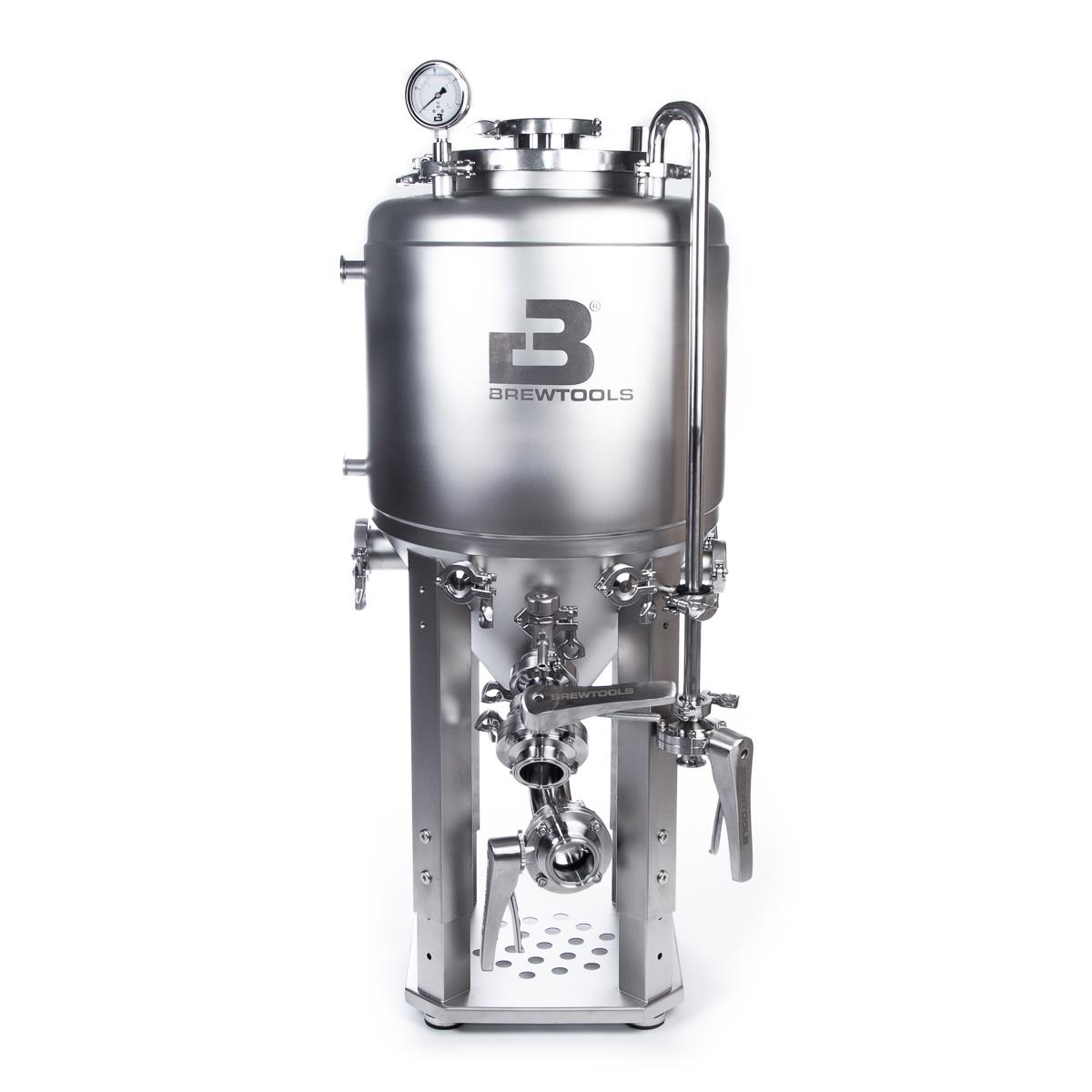 Capacity (Comes in four Sizes):
8.7 Gal. or 40 Liters.
16.4 Gal. or 75 Liters.
19.8 Gal. or 90 Liters.
30 Gal. or 140 Liters.
Pressurizable/Isobaric: 2 bar or 30 PSI (Can ferment under pressure).
The Brewtools Unitank Series are high-end stainless steel conical fermenters designed for very demanding homebrewers as well as small-scale breweries and are often compared to the previous fermenters on this list.
Like all conical fermenters on this list, the Unitanks allow for yeast harvesting and trub dumping without allowing any oxygen to make it into the beer.
These fermenters can easily be hooked up to a glycol chiller and cool the beer through the built-in cooling jacket in the walls of the fermenter, which can make your life a whole lot easier when it's time to clean the fermenter.
They offer an 8″ TC port on top for easy access as well as 2″ TC dump and racking valves, and many additional features which are usually not present on lower-end fermenters.
Distinctive Features:
Built-in cooling Jacket (Requires glycol chiller).
More advanced feature set than any other fermenter (lots of ports, dry hopping without introducing oxygen, etc.).
You can get the Brewtools Unitanks here: Brewtools Website.
Best Plastic Conical Fermenters
Although stainless steel is a much better material because of its longevity, how easy it is to clean, etc., plastic conical fermentors are much more affordable alternatives and work exactly the same way.
In fact, some of them even allow you to ferment under pressure, which is a nice benefit to have.
I would recommend checking out the FermZilla fermenter (second one in this section).
FastFerment conical fermenter (≈$50 – $150)
Most Affordable Conical Fermenter out there!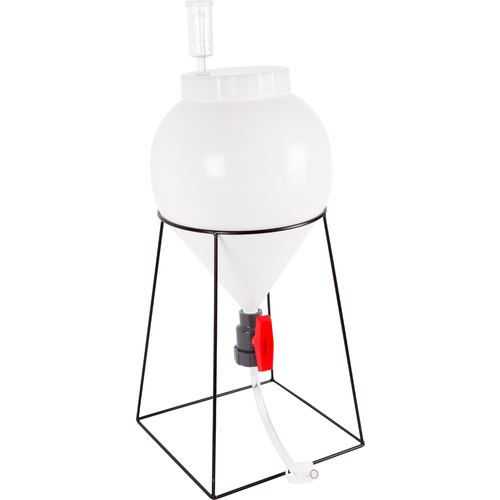 Capacity (Comes in 3 sizes):
3 Gal. or 13 L
7.9 Gal. or 35 L
14 Gal. or 63 L
Pressurizable/Isobaric: No.
If you are just getting started in the world of homebrewing and want to get your feet wet as far as conical fermenters go, the FastFerment conical fermenter is probably the way to go since it sells for under $50 at the time of writing this article (the 3 Gallon one).
It's made out of food-grade HDPE plastic which means that special care must be taken when cleaning it since abrasive cleaners will damage it, which is why you should only use ones like PBW.
It comes with a collection ball at the bottom which collects all of the yeast during primary fermentation, and once fermentation is over the valve is shut and the collection ball can be removed without introducing any oxygen whatsoever into the beer, which prevents oxidation.
Typically with most small conical fermenters if you let trub dump out the bottom air has to come into to replace that volume, which can cause a lot of problems, but this won't happen with the FastFerment conical fermenter.
It's worth noting that the FastFerment Series do not allow for fermenting under pressure, which means that you will need to either bottle or transfer to a keg.
Distinctive Features:
Extremely cheap.
Doesn't introduce oxygen when removing the yeast.
If you're just getting started and want to avoid having to transfer your beer from the primary vessel into the secondary fermenter, then the FastFerment series of fermenters might be a great place to start.
You can get the FastFerment Fermenter here: Amazon, NorthernBrewer, Brouland, MoreBeer.
FermZilla Conical Fermenter (≈$150 – $250)
Affordable fermenter for fermenting under pressure!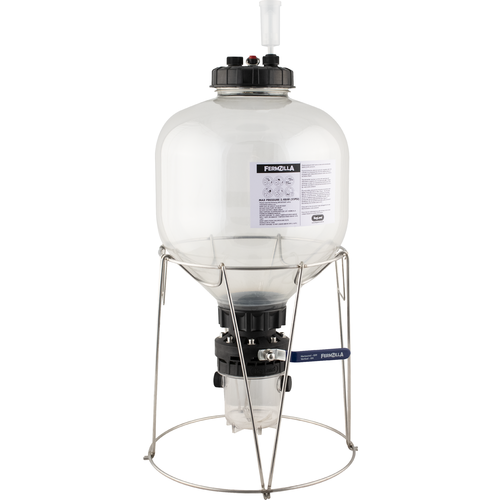 Capacity:
7.1 gal. or 27 L
13.2 gal. or 55 L
Pressurizable/Isobaric: Up to 2.4 Bar (34.8 PSI) which allows for fermentation under pressure (This requires the Pressure kit which is sold separately).
The FermZilla is the ideal solution for any brewer that wants a more advanced system with all the advantages of a pressurizable stainless steel fermenter but without spending a fortune.
It lets you harvest the yeast, dump the trub, and even ferment under pressure as long as you also get the FermZilla Pressure kit, but fermenting under pressure allows you to carbonate and even serve your beer straight from the fermenter without the need of bottling or transferring to a keg, and this also reduces ester and fusel alcohols in your finished beer.
Of course, you can also do pressure transfers to move the beer to a keg or even bottle it since the pressure required to do so is much lower than what the FermZilla can handle, and what's great about this method is that no sediment will be present on the bottom of the bottles.
It's worth noting that since this is a PET fermenter it can be sensitive to high temperatures and some cleaning agents and it's recommended that you don't leave sanitizing products soaking in the tank for over an hour, plus you need to pay special attention when cleaning it since you don't want the plastic to scratch.
Also, the higher the fermentation temperatures, the lower the pressure it can withstand, so be careful when fermenting in the higher ranges (such as with Kveik yeasts).
Distinctive Features:
Up to 2.4 bar (fermenting under pressure is possible).
Big and reliable collection container that doesn't let any oxygen in.
The FermZilla Conical fermenter is the best plastic fermentor you can probably get since it lets you ferment under pressure which results in better beer, plus you can simply serve beer straight from it and never have to either bottle or transfer it to a keg.
You can get the FermZilla here: MoreBeer, Brouland.
Catalyst Fermenter (≈$200)
Can withstand Boiling Temperatures!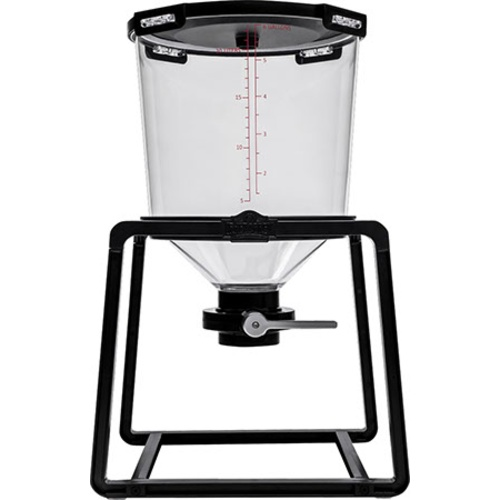 Capacity:
6.5 Gal. or 24 L.
13.2 gal. or 55 L
Pressurizable/Isobaric: No!
The Catalyst fermentation system is a 45° Conical Tank made of a BPA free Medical Grade material that can withstand boiling temperatures, making it the only plastic fermenter out there that allows you to directly transfer the wort without previously cooling it first.
The conical design forces the trub down into the integrated harvester and the Catalyst fermenter, like all the fermenters on this list, allows you to harvest the yeast or dump the trub easily without oxygenating the beer.
Where the catalyst is different from the other fermenters on this list is in its lid size and how easily it can be removed, making the cleaning process much easier than with other fermenters.
Sadly, it can't be used to ferment under pressure or even do pressure transfers.
Distinctive Features:
Made of a BPA-free Medical Grade material.
Easy to Clean.
Withstands higher temperatures than other plastic fermenters.
You can get the Catalyst Fermenter here: Amazon, MoreBeer, NorthernBrewer.
Advantages of a Conical Fermenter
Conical fermenters are becoming more popular by the day and there are many reasons for that, mainly that they allow you to harvest yeast more easily and that they let you do primary and secondary fermentation in the same vessel since you can dump any excess trub from it via the collection vessels.
In short, here are the advantages of Conical Fermenters:
Primary and secondary fermentation possible in the same vessel.
Dump the Trub.
Collect the Yeast.
Stainless Steel VS Plastic Fermenters
Stainless steel is a much stronger material that should last virtually forever if properly taken care of, which is not the case with plastic fermenters.
Even with the FermZilla, which is a high-quality fermenter that allows you to ferment under pressure, they recommend replacing the fermentation vessel every two years.
At first, a plastic fermenter might seem like a much more affordable alternative, but over time plastic fermenters will end up being more expensive.
This is why, if you're serious about brewing and you know that you're in it for the long haul, investing a little more now in a stainless steel fermenter will result cheaper over time.
Additionally, stainless steel can be more easily cleaned since you can use a lot more cleaning agents which may otherwise harm plastic fermenters, plus they don't really scratch, they are more robust in every way and generally have more advanced feature sets.
How to Choose a Conical Fermenter?
In my opinion, there are three main things to look out for when choosing the right fermenter:
Price: This is an obvious one but you shouldn't go over budget. If you have about $200 to spend right now, it might be better to go with a plastic fermenter like the FermZilla to be able to ferment under pressure instead of the FermTank and then upgrade in two or three years.
Features: The higher-end models have way more advanced features (like the cooling jacket in the Brewtools Unitank Models), being able to ferment under pressure, built-in heating or cooling, etc., but I think that you should think hard about whether or not you're actually going to take advantage of those features. If not, then consider getting a more affordable alternative.
Logevity: The longer the fermenter lasts, the cheaper it will be since you won't have to replace the vessel (as it so happens with plastic fermenters), which is why, at least in the long run, stainless steel fermenters are generally more cost efficient since they basically last forever if properly taken care of.
What fermenter should you get?
If you're going for a plastic conical fermentor, then I'd highly recommend the FermZilla over the other ones since it allows you to ferment under pressure.
As far as Stainless steel fermenters go, I'd recommend the FermTank if you're not interested in getting a high-end one since it's so affordable, or if you're interested in fermenting under pressure and having a fermenter with all the bells and whistles, then either the Brewtools Unitank Series or the Brewbuilt X1 Uni Pro Series should do the trick.
Conclusion
The Fermentation process is by far the most important thing when brewing beer and having the right fermenter is key.
As I mentioned, stainless steel is the superior material, but if you're just getting started then I'd recommend the FermZilla since it's more affordable and allows you to learn more about the brewing process since you can either ferment under pressure, transfer to a secondary, bottle or keg and carbonate there, etc.
I hope this information was useful!